Greetings from Brodsky & Treadway!
8mm filmmakers, technicians, writers and advocates, Bob & Toni have been working together since 1975. We have no plans to retire, but have become more careful about the work we take. If you need us for your work then you must bring patience to the table and leave pressure outside. Toni has finally noticed that we are older than we were in 1980 when we opened our studio! Also, the films we are working on have aged, too. We see more films now that need special handling due to shrinkage, color fading, and other manifestations of poor storage, processing or use. These take time. Please call us to discuss your old films before you ship them to us.
We do high quality, scene by scene wet-gate transfer of small gauge movie film generally destined for professional documentaries and film archives. We work solely on camera original reversal film in 16mm, Regular 8mm, or Super 8mm gauges. Brodsky will only work scene by scene, with wet gate. Our studio is NTSC Standard Definition to give you each scene fully color and density corrected, at the appropriate frame rate, shown full frame in its original 4:3 aspect ratio whether as SD files or pillar-boxed in HD. We believe that director and editor are the correct persons in the production thread to make choices about presenting original movies in other than original aspect ratios. We want you to consider the full image. Scenes from our NTSC masters have been edited into HD television productions around the world. We offer special handling of selected, shrunken, damaged or deteriorated original film. We can work with sound on film or unusual sound sources. We do not work on negative film or prints.
Our work is by appointment only, and turn-around can be quick if pre-arranged for a crucial, short bit of film. In 2021, we are no longer estimating turnaround on large collections. We require a willingness of clients to be patient. Please call Toni about your work. Please scroll down the rest of this page to read the details before calling. We are small, just two people. While we do try to hold time for our old clients who are TV producers under deadline, larger jobs must wait in our queue. While Brodsky will not retire, Treadway is acting to lessen the pressure of deadlines on him. Be aware that Toni will often advise you to do triage on your material to have Bob work only on selected rolls or scenes. She will also refer you to other labs if you and your work mean pressure. Thank you for understanding.
Location
Rowley is located 35 miles North North East of Boston, Massachusetts on the coast. The town is bisected by Interstate-95. We work all days in our home studio so we do not encourage visitors. Please respect our privacy. (No field trips! Visits by agreement only, please call.) Thank you. Toni Treadway, studio landline: 978-948-7985 with voicemail.
Brodsky & Treadway.......Our Services in detail...
Historic or artistic frame rates
Inspection, Repairs, Hand Cleaning
Instructions for producers on selecting and marking shots
Top
Our speciality is very high quality transfers of CAMERA ORIGINAL REVERSAL FILM and only that. We handle Regular or Standard 8mm, Super 8mm and 16mm gauges, including film which is quite shrunken or deteriorated. We do not work on negative filmstock at all and prefer not to work on print material unless you particularly need us to handle a sole surviving copy. We love black & white and color reversal film Brodsky's speciality is to work to reveal the details in majestic B&W or venerable Kodachrome reversal film and the glory of film in spite of the limitations of digital playback.
We work on motion picture film that is new or old, archival, shrunken, deteriorated or damaged for artists, archivists, and television producers. We have been able to capture images from film with very severe deterioration and shrinkage from 1% to as much as 4%.

Our work is FULLY COMPONENT ANALOG or DIGITAL with SCENE-BY-SCENE COLOR IMPROVEMENTS and CONTRAST CONTROL. We work in Standard Definition as the original movie film we work with was shot in 4:3 (aka the 1:1.33 aspect ratio). W=hen we deliver HD files, they will be pillarboxed so you have the full image of the old film. We want producers and their editors to decide in post-production if and how and where to crop the image for widescreen presentation. We advocate you consider full frame presentation of historic moving images with pillar boxing when a 4:3 film must be presented in widescreen.

WE ALWAYS WET-GATE for SCRATCH SUPPRESSION unless by agreement with an artist about a hand painted or altered original.
Top
Top
Top
OUR CLIENTS
Brodsky & Treadway have handled unique original film materials for diverse filmmakers and institutions.
FILMMAKERS AND MEDIA ARTISTS
Jem Cohen, Joe Gibbons, Saul Levine, Poli Marichal, Anne Charlotte Robertson, Michael Stipe, Sanjiban, Rea Tajiri, to name a few......as many as 300 visual and performing artists came to work with us a year for over two decades.
PRODUCER/DIRECTORS
Orlando Bagwell ("Malcolm X: Make It Plain"), Ken Burns, Natatcha Estebanez, Ricky Leacock, John Marshall, Robert Gardner, Glenn Holsten, Lawrence Hott ("Imagining Robert"), Spike Lee ("Four Little Girls"), Ricardo Mendez-Matta, Michael Moore ("Bowling for Columbine" first documentary invited to Cannes), Bill Moyers, David Sutherland, Jane Weiner, and other filmmakers.
TELEVISION SERIES
For 25 years we have handled the historic personal films that are unique footage in great Public Television series like Ken Burns' The National Parks, The War, and Vietnam; PBS series Frontline, The American Experience, Eyes on the Prize, Nova, Zoom, and P.O.V. We also restored moving images used in ABC's The Twentieth Century and for documentary production at the BBC.
When you see old home movies in a documentary film looking wonderful, clean, scratch-free, with good shadow detail, and the movement on screen was rendered at the proper frame rate, it is quite likely we transferred it. Alternately, when in a music video or reenactment film uses Super 8 film for a flashy, degraded or a trendy look in a cutaway, it is likely we did NOT handle it.
MUSEUMS and ARCHIVES
The Academy Film Archive, The United States Holocaust Memorial Museum Steven Spielberg Film and Video Archive, The Human Studies Film Archive at the Smithsonian Institution, Northeast Historic Film, The Guggenheim Museum, The Whitney Museum, George Eastman House, The Japanese American National Museum, The National Center for Jewish Film at Brandeis, The American Folk Art Museum, The J.F.K. Library, The Dance Collection of the New York Public Library, Yivo Institute, local historical commissions, state and university archives, and private family collections.
ALL WORK IS PERSONAL AND PARTICULAR,
LIKE EACH ROLL OF 8MM FILM.

WORK BEGINS WITH VOICE CONTACT

To describe and define your work,
PLEASE CALL Toni Treadway, tel: 978-948-7985
Please contact us via email and send us your name, location, phone number, questions and the best time to reach you by telephone.
Please understand, due to their complex nature, we cannot repond to technical questions or requests for estimates in writing as that is time consuming. In all cases we prefer voice contact.
Toni, tel: 978-948-7985 or Treadway [at] LittleFilm [dot] org.
Top
FRAME RATES / FILM SPEED

ON ARCHIVAL FILM WE STRIVE TO REPRESENT ORIGINAL CAMERA FRAME RATES so that the motion is natural.


On artists' films, WE CAN RENDER IN DESIGNATED FRAME RATES, VARIABLE FROM 1 TO 24 FRAMES PER SECOND as instructed by the artist or the director.
CAREFUL HANDLING

WE DO CAREFUL FILM HANDLING, INSPECTION, REPAIR, RECONDITIONING, and RESPLICING AS NEEDED.


WE CAN TRANSFER SHRUNKEN OR DETERIORATED ORIGINAL 8mm, SUPER 8 OR 16mm reversal MATERIALS. THIS IS A SPECIALITY.
SOUND
WE TRANSFER SYNC SOUND from "all the usual suspects"
including
SINGLE SYSTEM SOUND-on-FILM
1 track or 2 track or stereo sound on film;
MAGNETIC 8mm, Super 8,
FULLCOAT 8mm, Super 8,
OPTICAL or MAGNETIC 16mm,
FULLCOAT 16mm interlocked, whether to 16mm picture or to Super 8 picture
and
SOUNDTRACKS FROM OTHER SOURCES
LIKE OPEN REEL AUDIO TAPE, or AUDIO CASSETTE.
We can do sync corrections in the above formats, or you can in post-production.
Top
CLEANING
There is NO CHARGE FOR CLEANING unless unusual circumstances present themselves, such as advanced mildew, sticky tape or chewing gum. It is our prerogative to make our work as clean as possible. We check and clean film by hand. We will advise you when we need to charge for special handling, repair or assembly.

PAYMENT
We ask for a check as deposit on work booked in advance based on our estimate. We are very old-fashioned; we do not accept credit cards unless through Paypal. If you have sent a deposit and overpaid, we will refund any balance immediately. We reserve the right to add a surcharge for work performed with less than 48 hours notice, for nights, weekends or for jobs requiring unusual or extra documentation. If you are well organized, patient and reasonable to work with, you may well avoid surcharges.
RIGHTS AND RELEASES
We transfer original materials which are usually carried to us in the hands of the original owner. If you are asking for service on a film not made or owned by you, we need you to get permission and clear all rights and releases prior to working with us. We infer that your contracting for our work means that you have the right to copy the material.
LIABILITY
Your films have artistic, historic and sentimental value to you or even perhaps monetary value to your production. We treat your films with great care while they are in our hands, but we do not assume responsibility for loss or damage to your films whether they are in our possession or in transit. Common carriers have advised us they do not insure films for content but will only insure for replacement value of raw film stock.
SUPERVISION
In some instances the films need to be hand carried in which case a supervised transfer session is recommended. Supervising the transfer can save you money if you have done the work to be very familiar with the footage, have organized it and assembled it. In some cases, a documentary producer will want selected shots from a very large collection. Please contact us for best ways to mark selects.

RATES

Our rates are not published because each film or collection is unique and Toni can estimate the work after discussion by phone. Work is done by hand and transfer is only done scene by scene so our work is time consuming. We coach filmmakers with a large collection to do triage, recommending they hand view the film to make a basic list for triage. Once you know the details of your pile of old film, please call Toni to estimate your work. 978-948-7985 (office hours 9-6 EST)
TECHNICAL CONSULTATION
Transfers: one hour minimum. We have day rates for training staff people at archives on site. Call.

SPECIAL FILM HANDLING
Hourly rates for evaluation, condition reports, recommendations, reel assembly, repairs, re-splicing, removing mildew and reconditioning as required.

WET GATE TRANSFER SCENE-BY-SCENE ONLY, REVERSAL FILM ONLY.

Base scratches will be greatly diminished or disappear and your film will look as clean as a possible. Bob Brodsky is only happy doing scene by scene transfers of reversal film because that is his speciality. We do not offer one light, best light, straight through transfers. Call Toni for a quotation. When you call, she will want to know the gauge, number of reels, amount of film and condition of your film. We have a 1 hour minimum, and then quarter hour increments for transfer. Special handling needed for old films with VinegarSyndrome can be discussed but cannot be estimated.

Top
FILES
We can make you SD or HD digital files. In HD the 4:3 full image aspect ratio of the old film will be represented by pillar boxing. The most often requested file by our documentary clients is the Apple Quicktime codec Prores 4:2:2 HQ or Uncompressed digital files.
SHIPPING ARRANGEMENTS
We track all packages in and out, so you must call before shipping with carrier and tracking number. We handle original materials which are irreplaceable.
Please telephone us to work out strategy for delivery so we know shipper, tracking numbers and date of arrival. We highly recommend services with tracking barcodes that require signatures, such as FedEx Express (not Ground), USPS Priority Mail with Delivery Confirmation, or UPS next day air service.
Please pack film in a cardboard box with adequate padding. Never ship any media, film, audio or videotape in a fiber-filled bag; NEVER!
SHIPPING ADDRESS:
Brodsky & Treadway attn: Toni tel: 978-948-7985
69 Warehouse Lane
Rowley, MA 01969 USA

MAILING ADDRESS:
for USPS (PO classic mail) please send to:
Post Office Box 335
Rowley, MA 01969 USA
attn: Toni Tel: 978-948-7985 (9-6 EST)
Our filmmaking book "Super 8 in the Video Age" (1983) is long out of print. If you find a used copy online, it is useful in spirit, but be sure to check facts and labs before following its outdated production protocols.
Bob BRODSKY's 2005 memoir "Marching Bands Make Me Cry" is available directly from us. It is Bob's memoir of growing up Victorian in the McCarthy era and the people who shaped him. Click on the cover image to link you to his book page.
Toni's first book of poetry was published by Kelsay Books in 2018 and is available from their online store, local indy bookstores or Amazon.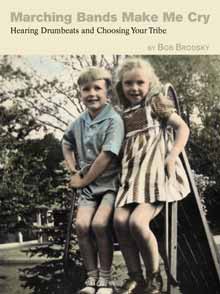 2005 special announcement: Bob's new book
NEED MORE INFO? Please visit our sister site www.LittleFilm.org as there we have information about small gauge filmmaking today, lists of labs as well as tips on restoration and preservation of old home movies, independent film and artist's films.
PLEASE SAVE YOUR OLD MOVIES and RECORD OCCASIONAL NEW MOVIES ON FILM
for the culture, for your great-great-grandbabies, for posterity.
We prefer you telephone us with questions or to schedule work. Tel: 978 948 7985 from 9-6 EST. If you reach voice mail, please leave your name, your phone number, your region, best hours to reach you and any technical details. Thank you, Toni & Bob